Book
RISING ABOVE THE SHIT
Transformation through a lifetime of consequences
Bev Adams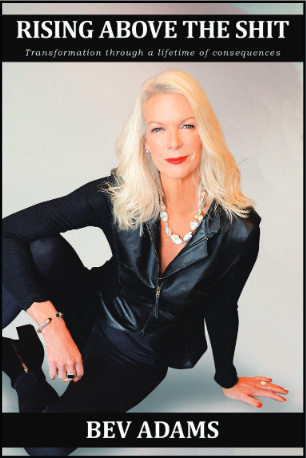 This book will make you think, make you laugh, will draw you to tears, and touch your heart. At twenty-one years old, Bev emigrated on her own to Australia, escaping the dysfunction of family dynamics, to search for new life beginnings. She found inner wisdom, intuition and tools to 'Rise Above the Shit' through near-death experiences, angel healing of her achycardia, loss of children, and PTSD resulting from her husbands' death.
This entertaining and impactful memoir is filled with authentic sacrifice, fear, trauma, tragedy, and a lifetime of accomplishments threaded with rambunctious humor.
"We all can use support to rise above life's twists and turns, changes and betrayals, heartbreaks and losses. Bev Adams not only offers us a strategy for transcending such times, she gleans these transforming insights from her own journey of growth and becoming. This is an authentic helpful and inspiring book. Study it deeply and share it wisely, for we are all here to shine and soar.
— Dr. Roger Teel
Spiritual Teacher and Author of 'This life is Joy'
"Over the years I have witnessed Bev Adams' dedication to transformation and healing. This memoir is laced with humor as it shares a powerful journey of courageous acts and overcoming obstacles. Bev invites us all to stand in our unique power and gifts."
— Cynthia James
Bestselling author "What Will Set You Free" and I Choose Me: The Art of Being a Phenomenally Successful Woman at Home and at Work "A beautiful journey of the human experience! Bev bears her heart and soul while demonstrating the unlimited power that resides within each of us to change and rise, amidst agonizing challenges."
— Lisa May, Founder
Fülle, Chief Impact Officer
SORCE
"I have had the gift of walking by Bev Adams side. She has felt deeply the pain of loss. Raising above does not mean forgetting but embracing the pain. One can obtain and gain in attitude to see life in a different way. Bev has harvested the gifts of greater compassion for self and others by telling her story. Let this book give you permission to rise above your pain."
— Patty Luckenbach
Author of The land of Tears is a Secret Place and I Only Walk on Water When It Rains. The Kingdom of Heart"
"Sometimes I feel the least best person to tell my story is me. That is not the case with Bev, who with focus, tenderness, and fire—shares her inspiring story in a way that I know will be beneficial to the lives of others. Truly a work of heart."
— Josh Reeves
Lead Minister, Mile Hi Church Denver Colorado


Hardback 978-1-9822-7953-0 Paperback 978-1-9822-7951-6 E-book 978-1-9822-7952-3