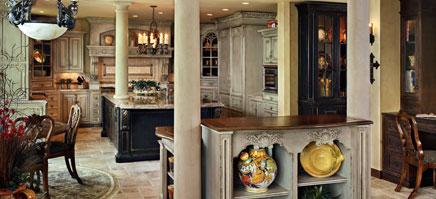 Kitchen Design
We treat interiors a bit differently than most designers. At Interior Intuitions Inc. in Denver, Colorado, our unique design approach revolves around your specific needs and the psychology of your space. Imagine your perfect kitchen or bathroom. Now let us create it for you. Our holistic design incorporates light, flow and most importantly, lifestyle. President of Interior Institutions, Bev Adams, began her design career renovating historical cottages in the hills bordering Perth, Australia. She has since engineered kitchens in Hawaii, Massachusetts and Tennessee—traveling literally a great distance, miles that pale in comparison to the journeys she takes delving into her clients' hearts, minds and homes in the design experience.
The two-step design process begins with the completion of our Psychological Design Profile. For example, "Is cooking something you do as a chore, hobby or necessity?" The answer to a question like this helps us understand your kitchen design requirements, functional requirements, habits, style preferences and daily activities.
Your responses also determine the fixtures and products we select with you in mind, as well as their careful placement to create an individualized, comfortable environment. Dual islands equipped with sinks and a dishwasher may be the ideal solution for a gourmet chef in need of additional preparation space. Whether you prefer to cook at the center of attention or removed from others, the placement of the fixtures in your kitchen should be tailored for comfort, ease and flow. Design by Interior Intuitions underscores your needs and confirms behaviors in rooms that matter to your lifestyle. Together we'll create designs that emit each room's light and essence to the rest of your home, your life.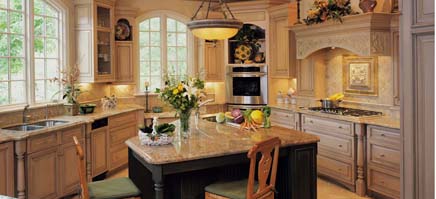 Kitchen Remodeling
If you are ready to give your kitchen a makeover, you have come to the right place. Remodeling does not only refresh your space, it refreshes your whole being. The energy of your environment affects your overall habits and disposition. Whether your kitchen is your personal cooking space or a compass for the family, coming home to one that is comfortable, functional and beautiful uplifts you. Kitchen design services include a careful analysis of your needs, functional requirements, habits and style through the answers you provide to our client survey.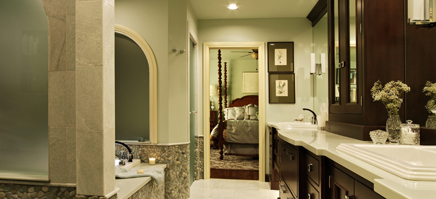 Bath Design
We translate your bathroom desires into a design that employs products specifically suited to your tastes. Combined with field measurements, Interior Intuitions provides comprehensive drawings including floor plans, elevations, cabinetry casework, mechanical locations and recommended construction changes to the interior space. Delivery and installation is handled by skilled professionals, and the option of additional labor services, including electrical contracting, plumbing services and general construction, is available.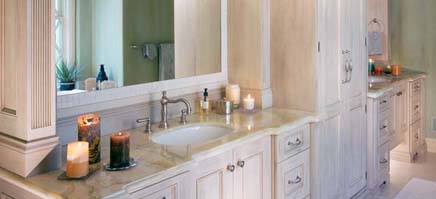 Bath Remodeling
If your bathroom is outdated and tired or simply doesn't suit your lifestyle, you will be amazed at the change Interior Intuitions can achieve. Our luxury bath design service pairs people-driven design with the products that bring your bath project to fruition. Interior Intuitions will help you select faucets, sinks, toilets, bidets, bathtubs and filtration systems that accommodate your needs in terms of both privacy and function. Then we can dress up the feel of your room with glass, mirrors, decorative accents and specialty hardware.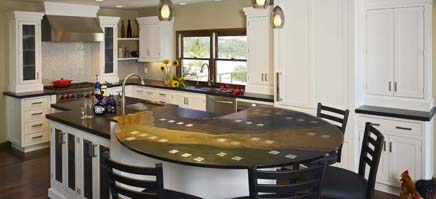 Space Planning
We are excited to embark on your new construction project with you, and we will guide you so that it turns out right the first time. Now that you are building a custom room or custom home, you have the opportunity to shape your new living space into exactly what you want it to be. Interior Intuitions has the aesthetic eye, experience and arsenal of quality products to make your vision a reality.
Kitchen and bath design services include a careful analysis of your needs, functional requirements, habits and style through the answers you provide in our design profile questionnaire. This information is translated into a design that uses products suited to your needs. Interior Intuitions Inc. also assists with all product selection, including a consultation for appliances.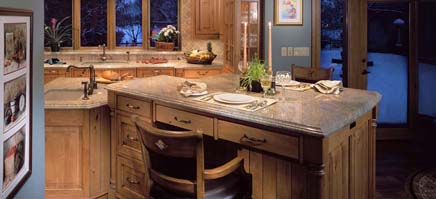 Design Consultation
Both a comprehensive understanding of our clients' wishes and the desired functionality of each component of the room is carefully selected to create more than just another kitchen or bathroom, but rather, a distinct, expressive living space. Interior Intuitions Inc. of Denver, Colorado offers two types of services that create individualized, comfortable environments: design consultation and full design service for both new construction projects and remodeling.
Interior Intuitions Inc. has provided the following sample questionnaires to help you begin the kitchen or bath remodeling process. We invite you to print and fill in the questionnaires to help pinpoint your particular needs. Upon scheduling an appointment with us, you will complete our more thorough personal design profile and client surveys to provide the information necessary to analyze the room behaviors required for your needs.
Contact Interior Intuitions for the questionnaire geared to provide information to design a kitchen or bath ideally suited for you.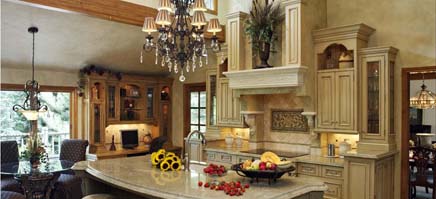 Home Furnishings
Interior Intuitions in Denver, Colorado is not product-driven, but people-driven. Your habits and style dictate what is selected, and we believe that only the highest-quality products will fulfill these needs. There are as many style personalities as there are types of people and families. Whether your style is traditional, contemporary, artsy, classical, Victorian, French or English, Interior Intuitions' fine products and materials can help you eloquently express your home's voice.
While we don't sell furnishings at Interior Intuitions, we have established relationships with fine interior designers on Colorado's Front Range and beyond.
Get in Touch
1776 So. Jackson Street
Suite 514
Denver, CO 80210
Business: 303-355-2772
Cell: 303-883-5763
Email: bev@interiorintuitions.com